WordPress has been widely used since 2003 and it is one of the most popular platforms to create SEO friendly website for getting massive traffic. Although it was started as a blogging platform but because of its so many features, It is now a full-fledged content management system. Although there are many CMS platforms in the market including Joomla and Magento but the problem with most of users is that they don't have technical expertise to handle every needs. Luckily, WordPress is free and one doesn't need to have a lot of technical knowledge . Here is a list of reasons that make wordpress so popular –
Benefits of WordPress Websites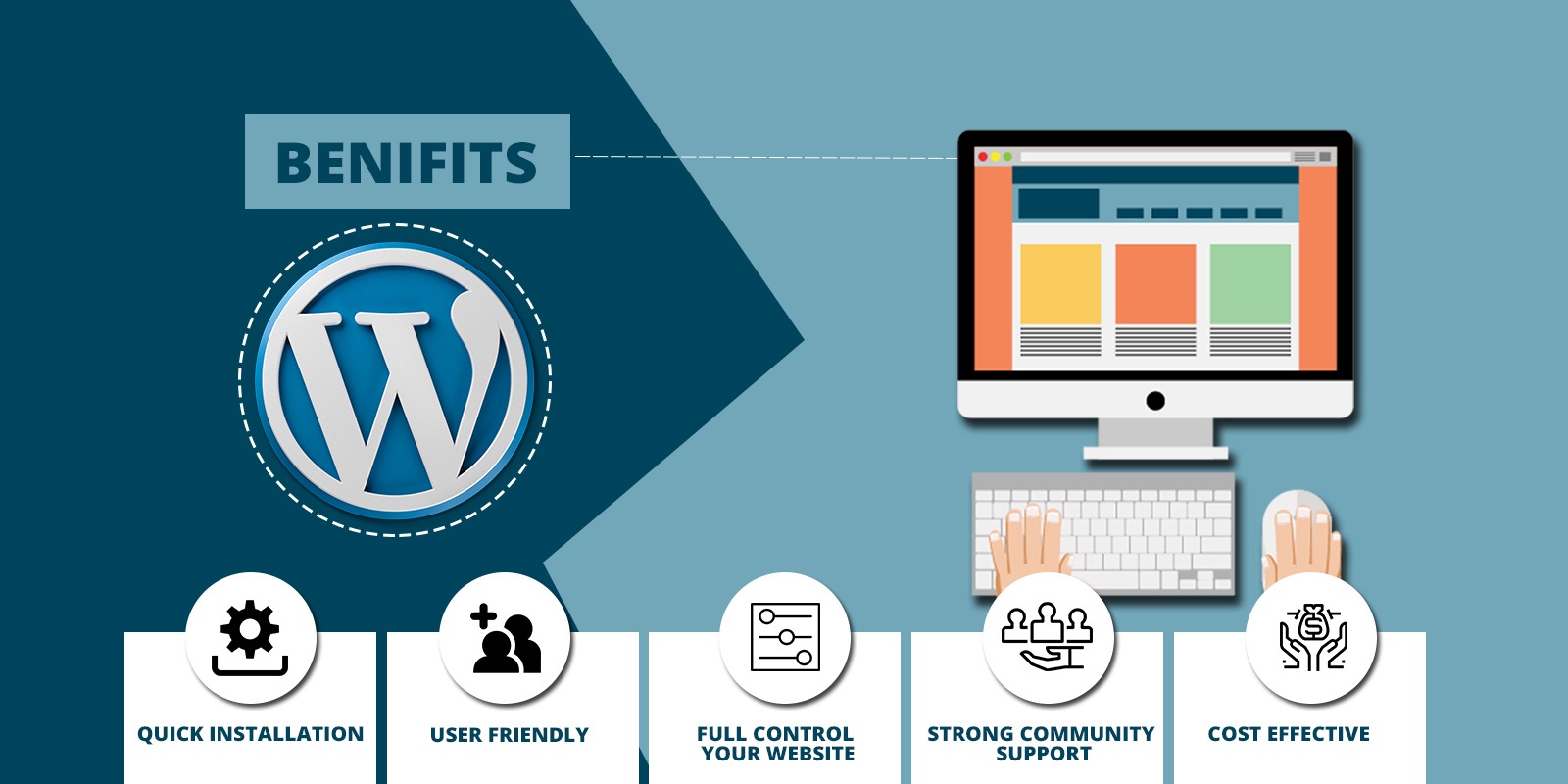 Quick Installation – Most of major hosting service providers offer a one click quick wordpress installation. There is no need to download and upload wordpress files via cpanel or FTP. All you need to do is to click on "Install wordpress" and within a few minutes, your site will be up and start working.
User friendly – WordPress websites are considered as most user friendly websites because you can simply write, upload media and publish pages/posts without any coding knowledge. Incase if you need some special functionality on your website, you can simply install a plugin to fulfill your task.
SEO Friendly – The main motive of building a business website is to get better presence over search engines. In general, wordpress websites are highly search engine friendly sites because it has so many features to make a website as Google recommends.
Full control over your website – Unlike some website building platforms, if you use wordpress as CMS, you will have full control over your websites. You can do what you want in your own way.
Add Functionalities by just adding plugins – Plugins are really important to add different functionalities as you want. All you need to do is to search for plugin you want to install and activate them to get the functionality as you need.
Define multiple users – As there is no need to give full permission to every user, As an administrator, you can create different user profiles and give the access level as per requirements.
Security – WordPress is known for being secure. However, you should keep backup of your website on regular intervals.
Strong Community Support – Because of popularity of WordPress, it has strongest community support. You can search for the issues if you are getting and there will be high chance that you will get your answer to solve the issue.
Cost Effective – WordPress designing and development is extremely cost effective. Gone are the days when you pay thousands of dollars for creating a few pages website. It is extremely cheap as you can do most of the tasks without hiring a designer.
Ultimate Social Media Integration – Another benefit of wordpress websites is that the wordpress themes are seamless integrated with social media networks.
Final Words – There are many features of wordpress that makes it so popular. If you have a small business website, wordpress can be the best option for you because of many reasons. If you need any help regarding wordpress designing and development, you can contact us. Thanks!