Influencer Marketing (IM) is a melange of old as well as the new marketing methodologies and alludes to the basic idea where celebrities and big-wig personalities endorse a product or service or even an individual. Fast forward to the newly-evolved content-driven internet marketing campaigns of today. Even today, IM endorsements make a whopping difference on the marketing campaign outcome of businesses today.
In a nutshell, IM identifies, analyzes and engages recognized personalities to talk about brands, products and services. It leverages the market standing of these personalities to give their endorsements a remarkable commercial value. This social presence is indeed worth noticing and utilizing over both online and in offline markets.
Role and Objective of an Influencer
The role and objective of an influencer cannot be underestimated, or even sidelined. You cannot just find any personality and give them money to praise your business, product or service. This is what most viral celebrities are used for, but influencers are on a higher plane.  Influencers are brand unto themselves and they are followed by many. These influencers have spent plenty of time on developing their marketable personas and earned a strong reputation. So, using an influencer to stand beside your product or service or brand and sing praises is cutting their potential short.
Key Steps to Underpinning Successful Influential Marketing Strategies for Business Growth
The influencer is the lynchpin or driving force of any Influencer Marketing campaign or strategy. They drive the opinion, and influences your target audience. He is going to create the resonance and relevance of your value product or service in new market domains. Developing an influencer marketing strategy for the growth of your business is directly correlated with identifying the right kind of influencers for the role.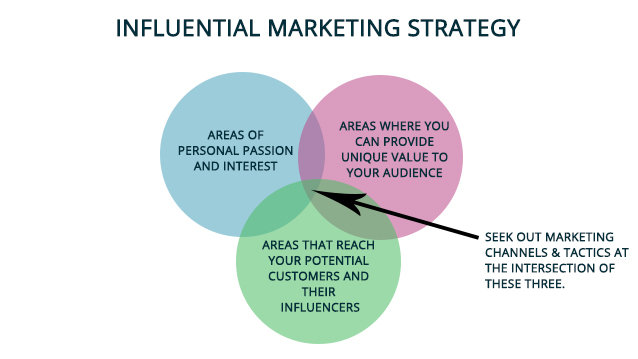 Strategy#1 – Know Your Target Customers – Your business and its prospects are based on the goodwill and brand loyalty of your customers. You should adaptively evaluate their psychology and behavior dynamics to anticipate changing trends.  This market analysis will lay the foreground to roll out your IM campaign and make it a successful endeavour.
Strategy#2 – Find out Your Influencers – There are countless influencers out there, but not all of them are going to influence the buying decision of your potential customers. You need to be selective about whom you recruit for your campaign. This means that the character of influencer needs to be identified. You should discern the nature of content produced by influencers and their market reputation.  Make sure the content produced has a successful market penetration and associates closely with your products and/or services.
Strategy#3– Observe the Social Activities of Your Influencers
Keeping a close watch on influencers and what topics they engage with through online platforms like blogs, podcasts or any other media is important. You should also understand how the audience receives their ideas, endorsements or arguments. The idea is to verify that the influencer and their public persona can be leveraged to benefit your marketing campaigns.
Strategy#4– Engage with Influencers – The next step in identifying influencers involves engaging with them on popular media. You can start following them, or sharing their content, or establishing a direct link. Engaging the right influencers will be the first beneficial step towards successful influential marketing.
Strategy#5– Check the Influencer Metrics – After you have started establishing relationship with the influencers and their followers, it becomes all the more necessary to track the efficacy. Analyzing the metrics will give you a fair idea about the extent to which relationships with influencers are producing profits for your business.
Read Also: 5 Tools to Grow Your Digital Marketing Success Immediately
5 New and Popular Influencer Marketing Tools for 2019
#1 Webfluential – This tool is useful for businesses as well as influencers. It helps them in finding influencers that match their industry on popular social media channels such as Facebook, YouTube, Instagram, WordPress, and Twitter. Next, the tool helps in tracking brands, which are in the market for influencers relevant to their business. There is no need of data mining, because the tool provides only relevant data on influencers to businesses and vice versa.  Also, only verified and approved influencers are allowed to access the software resources. This eliminates unprofessional individuals from the pool.
 #2 Zoomph – With an overwhelming 200 million social media accounts, and still growing, Zoomph is a powerful force in the online market. The software grants access to critical information on various activities carried by these accounts. New Influencers are added continuously, and this data is quite influential for businesses. Pricing varies according to the number of social media platforms opted for by the subscriber.

#3 BuzzSumo – The tool searches for quality content posted on social media platforms as well as influencers creating content centred around specific market domains and brands. Moreover, it is offers prospective insights for business owner to evaluate the media outreach of individual influencers. BuzzSumo allows you to track potential influencers, and engage with them via different social media platforms.
#4 BuzzStream – If you want to reach out to potential influencers in real time mode, BuzzStream is the right tool. This software follows every post or tweet made out by various influencers on social media. The tool also has an option to trigger "REMINDER" to prevent missing out of any event.
#5 GroupHigh – A great influencer marketing tool, GroupHigh uses a critical system for analyzing, putting together as well as managing influencer relationships.  The software has valuable data about potential influencers, which can help businesses assess the influencer's viability for their purpose.
Is Influencer Marketing Right for You?
Influencer marketing is a powerful tool when implemented appropriately. If you want to capitalize on the market reputation of any influencers, consider starting an influencer campaign. Be sure to find influencers who are just the right match for your business reputation and can successfully market your business across multiple media.