Your website is 24/7 digital store, whether you are selling your products or introducing latest products or services, you need to be sure that your website is capable of performing such activities efficiently. If you are not happy with the performance of your website or you are not getting expected results from your website then you precisely need to make some changes or modifications. But the point is, in such condition how much redesigning can help you.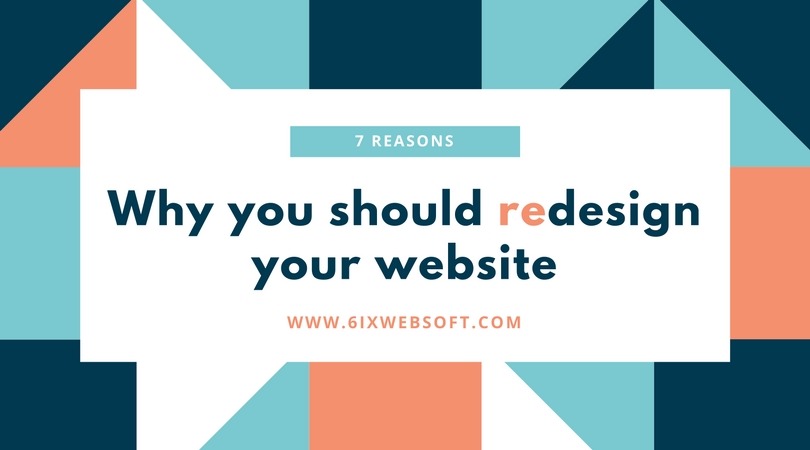 What is re-designing?
As it sounds, re-designing means modifying an already designed website. The reason can be anything and it can be trivial or it can be essential. But what re-designing service providers offer to their customers? When and how we avail this service.Below are five valid reasons you should re-design your website.
Slow Website Speed: Both search engines and users love fast loading websites. Afterall, you are working to convince them. Your website design plays animportant role making your website speed faster and slower.If your website is slow, then you need to optimize your website designing.
To make it responsive: Nowadays, it important to have a responsive website design, so that you can reach to those customers who avail smartphones to purchase services or products you are serving. Since you are an online seller, you cannot afford to ignore this group. This could be most valid reason to put your website into redesigning.
SEO-friendly: Eventually, every website has to compete with each other for the top page of Search Engines. It usually takes numerous efforts and eligibilities to make a website capable of crawling on the search engines.
Wouldn't be nice if…?: If you are not satisfied with your website designing; and you think there are something missing or something has to be changed. Then you must opt for redesigning.
To make Contact information more visible: You should redesign your website when your visitors have difficulties to find contact information. It is amost important factor to increase theconversion rate of your website.
In order to make easy navigation: Users do not like complicated websites. If they tangle in finding what they are looking, they simply close the tab. So, you need to have easy navigation.
Extra features: Whether you are adding acontactform or other features on your website, then your website has to redesign. The features can be anything, for instance, you need to account thefeedback of your visitors; so, you should add anextrascript on your website.
Do you think you need a website redesigning service? Which part do you prefer most and importantly how much is your budget? Connect with us, for optimal website redesigning service in the USA.