Digital marketing is a modern-day necessity for any business with an online presence. With the stellar rise in internet facilities around the world, there is no shortage of opportunity. However, this also means that there is no lack of competition.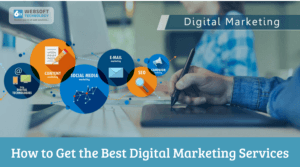 Why is Digital Marketing Important for Success?
If you have a look at any online industry, you will find that the industry leaders got to their position by using surgical digital marketing tactics. Also, they maintain their position by promoting their business through every channel that can benefit them directly. Some even tap into digital marketing channels that do not directly yield a profit.
What Should Be Your Digital Marketing Strategy?
How you choose to do your digital marketing is, of course, your personal choice. However, if you are a prudent investor, as you should be, then you will realize that it is best to focus on certain portions of the digital marketing industry rather than all of them simultaneously.
Also, you will have to consider what kind of value you can derive from them and how much time is it going to take for you to start seeing clear results. In short, you need a digital marketing plan. This is a particularly challenging thing for small businesses and they often stumble a lot before finding their feet. So, we decided to write this post to help solopreneurs and small business owners out.
How to Create Your Own Digital Marketing Plan?
The first thing you should do in order to make an effective digital marketing plan is to find out the most popular means of doing so. Broadly speaking, the most important aspects of digital marketing are SEO, SMO,and PPC. If you don't know what these are, then SEO stands for Search Engine Optimization, SMO is Social Media Optimization and PPC is Pay-per-Click.
Each of these digital marketing tactics has their own set of benefits and thus, has a unique standing in the domain. The best thing to do is to find out where your target audience is most likely to take notice of you. Further, you need to analyze who are the top players in the market and what are their digital marketing strategies. While it is wise in some senses to follow the leaders, it will not make you stand out. So, you need to develop your own unique approach to digital marketing to make it truly rewarding. So, let us break down the development of a digital marketing plan.
Conceptualize
This is the most research-intensive part of the entire process. You are basically going to build your own digital marketing plan and will have to devote a lot of time evaluating the stats relating to them. Also, you will need to undertake particular case studies to understand how the market responds to different marketing techniques, what combination of methods should you use for your particular niche and how soon can you expect to see a fair return on your investment.
Conceptualizing a digital marketing plan is particularly hard since there are so many variables at play. While you might think that this will save you a lot of money, this is an incorrect idea mainly because you will be spending countless hours trying to get the best digital marketing strategy refined to suit your particular needs and budget. This is not going to give you much time to focus on other areas of the business. Besides, there is immense value in letting people do things for you and then compensating them for their effort. However, you should still remain involved as a smart entrepreneur will be able to pick up essentials of the domain effectively and then cut costs in the longer run.
Deployment
Once you have completed the digital marketing plan, you need to deploy it effectively. For this, you are going to need a superb understanding of particular niches within the digital marketing industry. For example, SEO is one of the most complex aspects of digital marketing. The idea is pretty straightforward. You use specific keywords that pertain to your services or products and then Google will crawl over them and assign your website a particular rank. The higher you rank, the more likely you are to get increased business.
SMO works quite differently from SEO although it has the same principle behind it. The fundamental idea is to target the social media sectors where your potential clients might be frequenting. Further, how can you target your clients better than your competitors and what would be the time taken to see the return? While the idea is certainly good, it is effective only when done by professionals who know how to provide the right mix of multimedia to entice customers.
Now, while SEO and SMO are both advertising and brand building in some ways. PPC is all about advertising. It is concerned with getting people to visit your website and thus, give you their business. The benefit with PPC is that you only pay when your ad gets clicked. However, this is no way means guaranteed business. So, again, you need someone who can specialize in this area and ensure maximum exposure and eventually, business prospects.
Review and Recalibration
While developing a detailed digital marketing plan is one thing, deploying and then reviewing its success is a different ballgame entirely. This is where the digital marketing experience of any professional really makes a difference. If you invest in the right tools, whether paid or free, then you will certainly have access to a healthy amount of info on your digital marketing plan's performance. But knowing what to do with it and how it should alter your future digital marketing plans is something rather complex.
So, you will have to take on a lot of work to understand how to refine your results and make your digital marketing drive yield the kind of results that would be beneficial for your business. As you can see, digital marketing services are incredibly complex for someone who does not know the minute details of the process. And as they say, the devil is in the details. So, rather than soloing your business, you need to find a reliable digital marketing service provider who can deliver the kind of value you want.
Where Can You Find the Most Professional Digital Marketing Services?
In terms of digital marketing with an international outlook, there are few companies that can match the caliber of 6ixwebsoft. Providing a host of digital marketing options along with customized plans for rewarding drives, they are among the most efficient as well as proficient companies in this industry. If you are looking for high-quality digital marketing services, then 6ixwebsoft should be your first consideration. Give your enterprise the professional talent that will take it sky high. Contact 6ixwebsoft today!