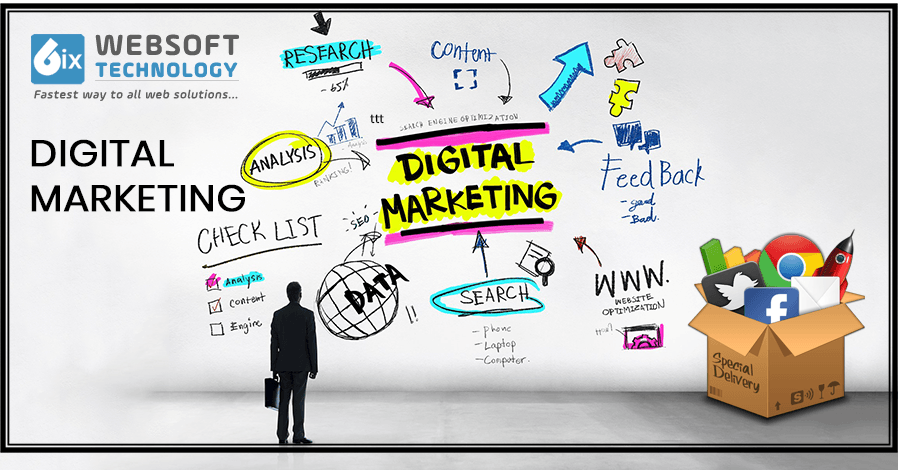 Education is easily one of the most profitable industries in India right now. This is evidenced by the fact that thousands of institutions are coming up all over the country. While an institute's reputation is based to a certain degree on word-of-mouth, things are changing fast.
Nowadays, students are far more likely to search the internet for the best institutes in their streams rather than ask around their locality. This has opened up a world of opportunities for educational institutes all over India.
The smartest educational entrepreneurs know that the internet can take their business to the top of the industry. They are always looking for opportunities to expand their business through online channels. They are not only cost-effective but also have a wider outreach than other mediums.
Unfortunately, until now, there were no unique packages dedicated to institutes in Delhi and India. But now, 6ixwebsoft is offering a novel digital marketing for institute package that provides all the benefits of online marketing at a great price. Let's look at the most important parts of this package in detail:
Guaranteed Leads for Institute
It is no secret that institutes pay a lot of money to get leads for filling their course batches. It is also no secret that most of them don't really turn into actual enrolments. However, the digital marketing for institute package offers virtually unlimited guaranteed leads to clients.
All the leads in the guaranteed leads for institute are verified as genuine and so the Return on Investment for this method is significantly higher. This means that institutes can actually capitalize on this and get the value they deserve.
Also, by relying on the digital marketing for institute package, you can rest assured of at least a certain number of leads as decided by you and the service provider. This means that your overall Return on Investment would be significantly higher.
SEO for Institute
These days, there is no institute that does not use online facilities and does not have a dedicated website. However, this also means that there is stiff competition in the industry. We all know that only the first few ranked results are checked out.
So, it is necessary to have pitch-perfect on-page and off-page SEO to really capture the market. The higher you rank on Google and Yahoo, the greater your chances of getting bulk applications to courses. SEO for institute can help your institute rank among the top results.
This will naturally boost your reputation immensely and lead to much more business than you would enjoy otherwise. At the same time, it will give you a great standing amongst rival institutes while also proving that you are progressive, forward-looking and can teach your students the same.
SMO and PPC for Institute 
Social media is a phenomenon that the most popular institutes are using to great benefit. Yet, this is still a rather untapped field as it requires a lot of knowledge to make SMO effective. Similarly, PPC effectiveness requires you to know the right places where the adverts can be placed.
Both of these factors, if used effectively, can vastly improve the online presence and overall visibility of your institute. So, the SMO and PPC for Institute can be a blessing for your institute and help you develop a great reputation as a centre for learning. Also, you can use things like student testimonials and targeted PPC for your institute to greatly enhance the overall digital outreach for your institute.
Website Design for Institute
Despite the wide application of the internet, there are still institutions that do not have a dedicated website. This is nothing short of business blunder and should be fixed as soon as possible.
Also, while there are many institutions that have websites, most of them are built on ancient designs that are no longer attractive. It would not be surprising if a student were to not apply for your institute just on the basis of you have a less-than-impressive website.
To get a competitive edge over your rival institutes, website design for institute is a must. While this is a part of overall website design, it is still very education-centric and enhances the reputation of your institution immensely.
ERP for Institute
ERP or Enterprise Resource Planning tools are essentially software that make managing leads and effectively turning them into confirmed enrolments an easy task. Currently, many institutions use basic software like MS Excel, MS Powerpoint etc. ERP software can optimize the lead management process and help you manage your growing business effectively.
Naturally, if you go for the digital marketing for institute package, you will need the right software to help manage the massive inflow of queries. ERP for institute can help you capitalize better than anyone else and bring your institute to the level of professionals.
Should You Go for the Digital Marketing for Institute package?
The Digital Marketing for Institute package being offered by 6ixwebsoft is an all-rounder. It gives you every facility that you are going to need to take your business to the next level and then beyond. By tapping into the limitless potential of the internet, you can expand your business immensely. This will naturally lead to a great increase in business and also the reputation you hold in the market.
The future of every industry is online. Education is no exception to this rule. Sooner than later, competitive institutes are going to realize that they need to cater to their potential students through online channels. You can gain a major advantage over your rivals by opting for the digital marketing for institute package.
Since the package provides for all-round digital marketing through guaranteed leads for institute, SEO for institute, SMO and PPC for institute, website design for institute and ERP for institute among many others, it can give you the best value for money possible. Are you ready to become a well-known centre for learning? Then take the digital marketing for institute package and watch your business grow beyond your wildest dreams!